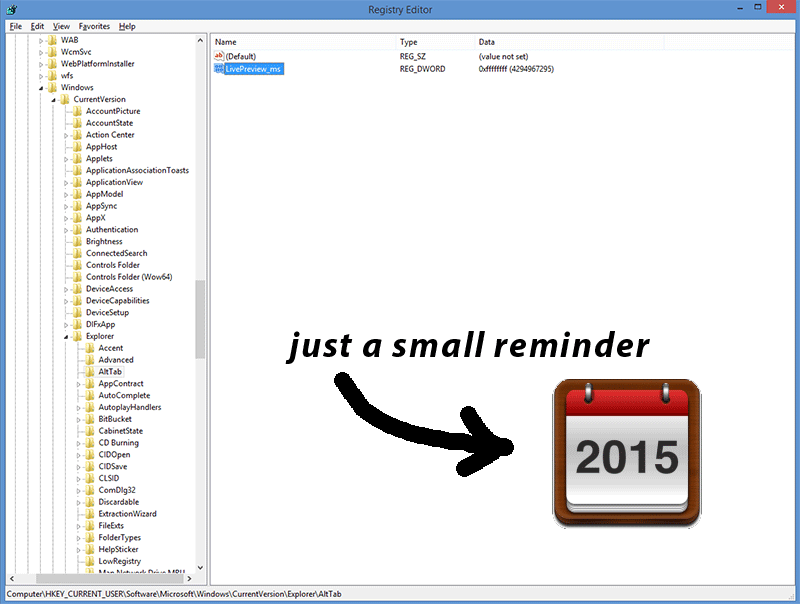 After years using a Mac it's always hard to believe what kind of user experience nightmares can appear on a Windows Machine – even for features we are used to for a decade or even more.
I bought my Lenovo T440s a year ago mainly for Visual Studio development and testing purposes – and to just revisit the Windows platform again after such a long time on Mac OS X. Some things are good as always – even my beloved Total Commander still works, with the same license I bought years ago (a tool which is by far out of reach to any of the Mac Norton Commander Clones, but that's the topic for another post). But one thing which I just could not believe from the beginning and which has driven me crazzzzzzy every time I used my Lenovo machine:
When pressing Alt-Tab and just holding the Alt Key the application in the background switched to the currently selected one in the Alt-Tab list – instead of just switching the selected icon in the Alt-Tab list as it has been the standard behavior since at least Windows 3.0 (yes, I'm already that old). After ways too much browsing the web and reading potential problems for that in Lenovos Bluetooth drivers (!!!!) and other software conflicts of some drivers which seems to lead to the problem I finally found a solution/workaround.
I can't remember the source anymore, it's mentioned on several sites, so the credits for this go to all the other folks out there. I mainly write this post as a personal reminder for me if I ever have to reinstall Windows on my Lenovo machine (and to be honest as a kind of mental hygiene therapy to myself). So the solution lies in the good old Windows Registry, a relic of the Dark Ages of Windows, but one which will certainly continue to exist even if a horde of aliens will have successfully completed their Mars Attack:
1.) Open Regedit (Windows Key – R > "regedit")
2.) Browse to HKEY_CURRENT_USER > Software > Microsoft > Windows > CurrentVersion > Explorer
3.) Add a new key "AltTab" (right click on the white canvas and use the popmenu)
4.) Add a new DWORD 32bit value:  name = LivePreview_ms  and set the value to #ffffffff
5.) Save & Restart Windows
6.) Get a beer.
This solution is for a modern Lenovo T440s computer with the latest Windows Version (8.1) with all updates installed from both – Microsoft and Lenovo (March 2015). The fact that such a solution is needed makes me still speechless. No wonder Apple had such a tremendous success – they just don't have a real competitor at the moment. Let's hope that 10 years from now regedit.exe will finally be debundled from Windows 2025 Pro Edition…